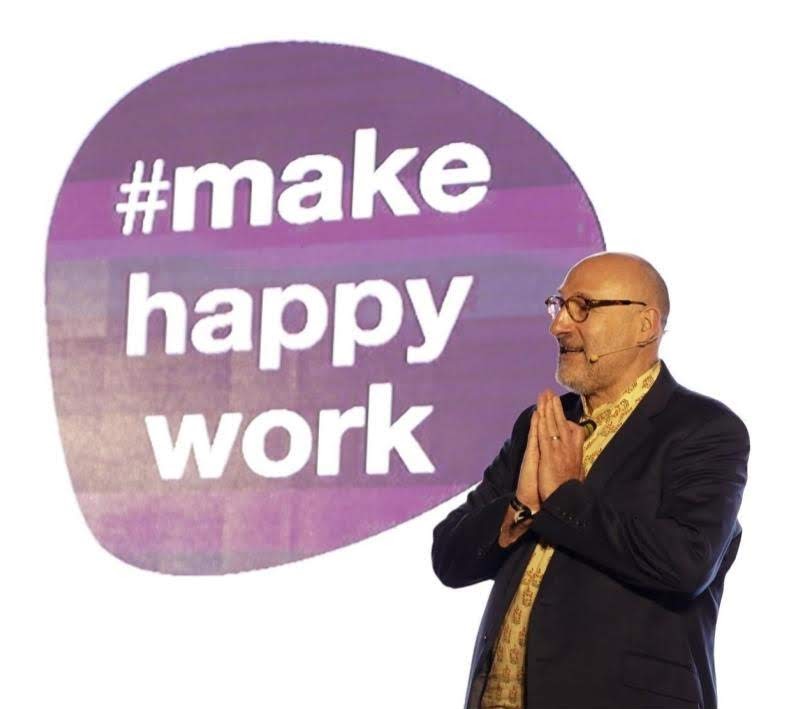 Modern Meditation for everyone
beanddo™ provides Modern Meditation based (MMb) training for both individuals and organisations. We provide bespoke programmes to help empower people towards resilience, creativity, self – optimisation and better wellbeing. Our mission and goal is to help others Make Happy Work™ no matter where they or are what they do. 
beanddo was founded in 2016 by architect, author, teacher, artist and international yoga and meditation teacher Mick Timpson.
In the UK, beanddo is at the forefront of Modern Meditation training, providing a unique and highly accessible form of meditation. 
Come and study with us and discover how to be and do the best possible version of YOU!
Modern Meditation is now a vital 21st Century life skill
Discover why learning with us is the best thing you can do for yourself, your colleagues, friends, family, community and the world.
What is beanddo?
Mick explains what beanddo is and why Modern Meditation is the best thing you do for yourself - ever! Tune into Mick describing what happens when you learn Modern Meditation
Our MMb classes, programmes and workshops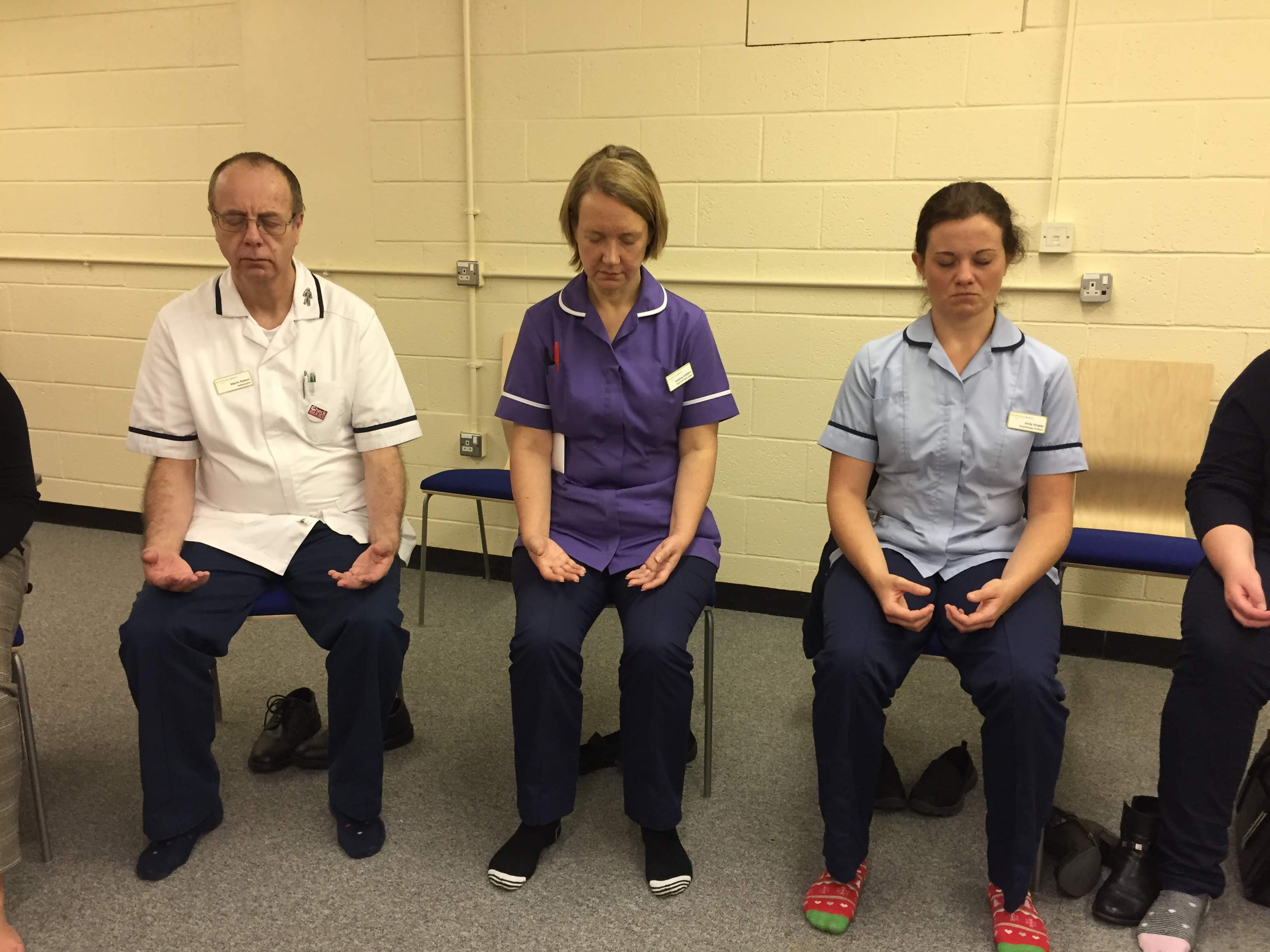 Be different and Do differently...
beanddo collaborate with and support all manner of organisations and workplace roles: from entrepreneurs and business leaders, to managers, key workers and teams.
We have experience across a broad range of sectors – providing Modern Meditation courses and workshops for the likes of accountants and lawyers, scientists, teachers, students, civil servants, health workers, carers, musicians, artists – the list goes on!
The effectiveness of meditation in supporting wellbeing and improving performance is increasingly understood by employers and organisations.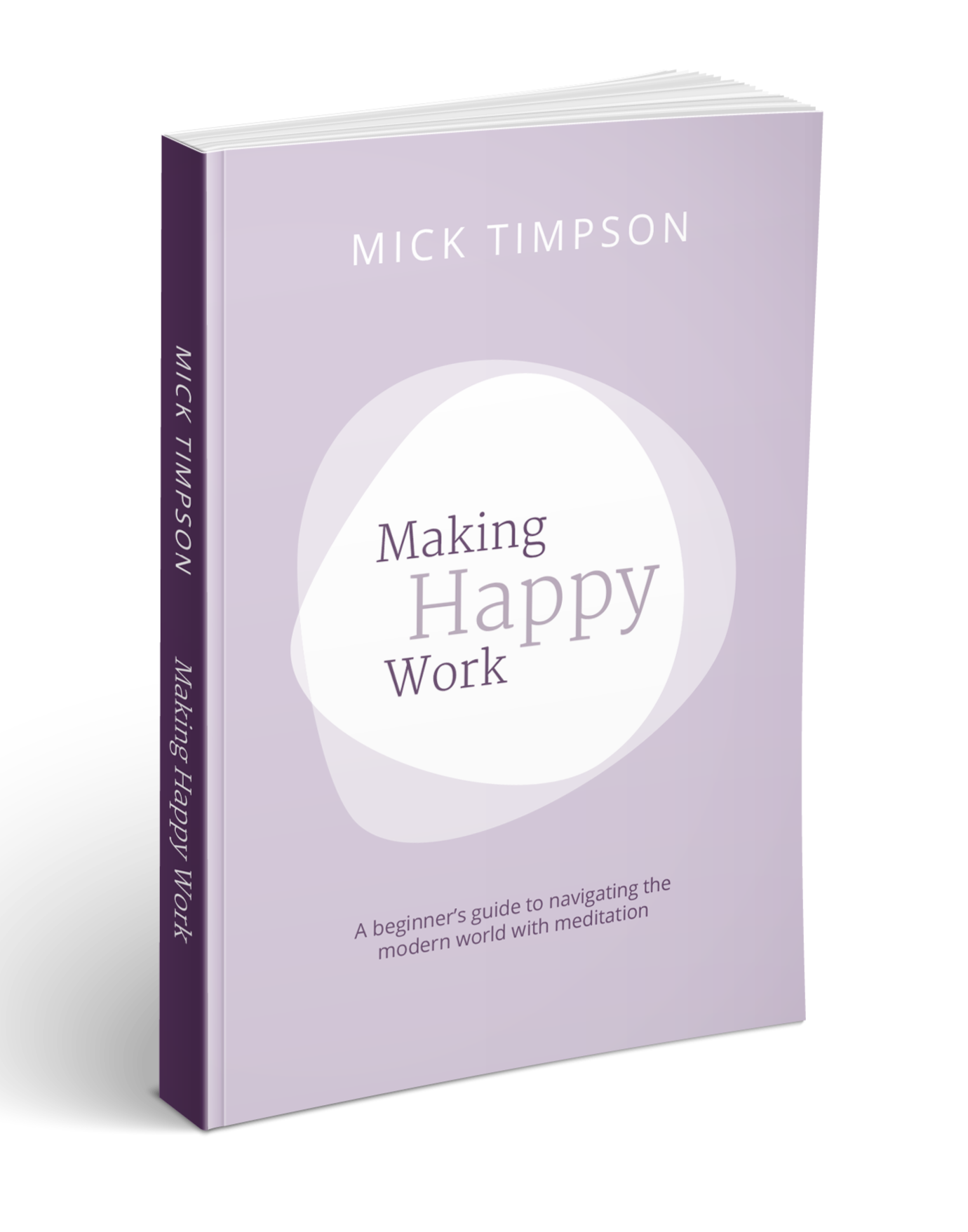 Making Happy Work. A beginner's guide to navigating the modern world with meditation'.
The book is structured around outlining core practices that encourage people to work with what we have, what we do, where we are and what we know. The main message is that we have everything we need to change, know and be our best selves. By empowering our inner architect, we can start to make our own world work beautifully, right here, right now.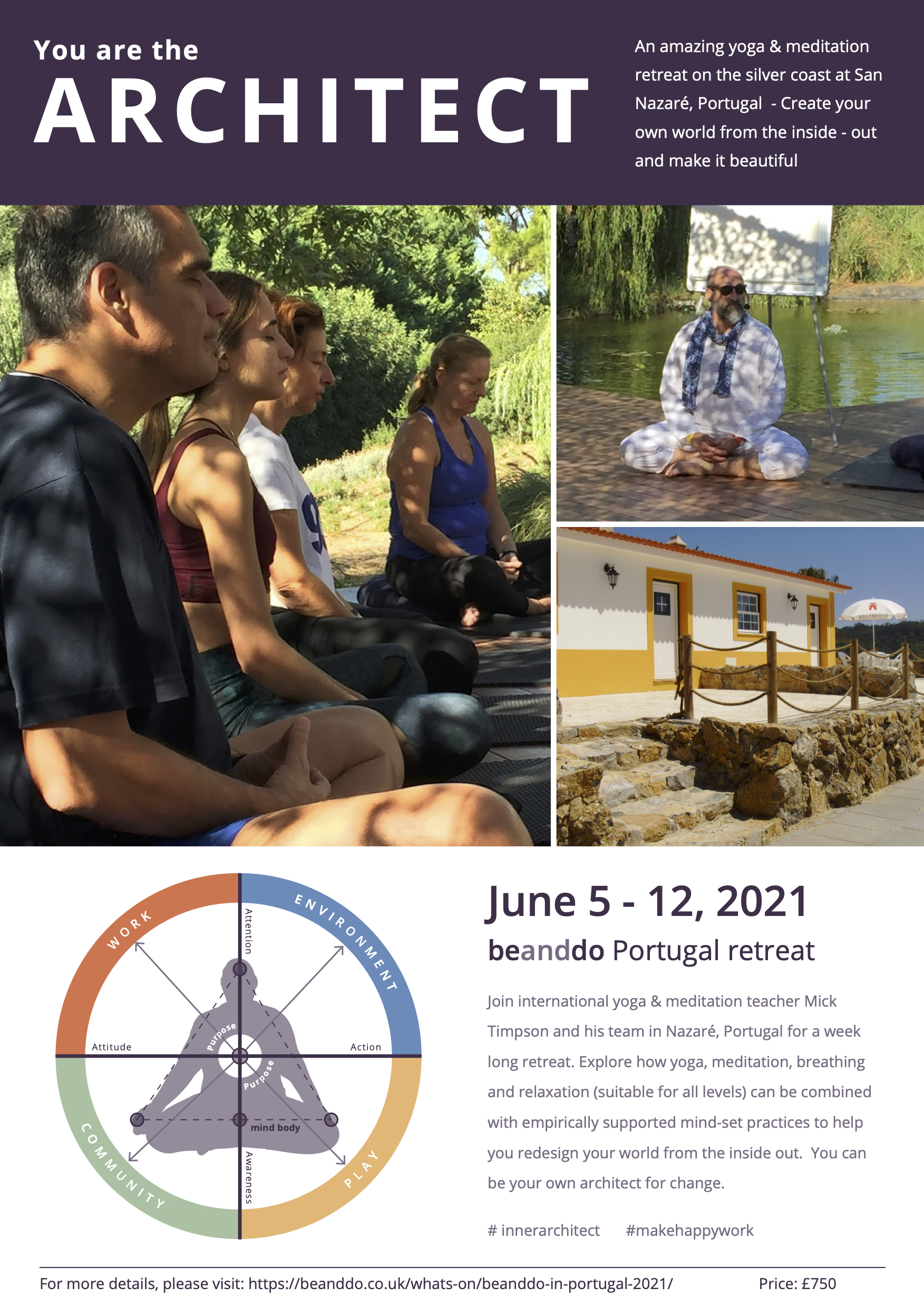 Create your own world from the inside out and make it beautiful...
Join us for a 6 day celebration of yoga, meditation and self-discovery! Come relax, play and explore your inner and outer world in a stunning setting on the Silver Coast in Nazaré, Portugal.
This idyllic setting, steeped in nature, is where you will be staying on our beanddo retreat. We will have the whole Quinta Cabeco da Moita retreat site to ourselves. Join us on this relaxing break away to connect in, recharge and discover that beautiful place of calm and tranquillity within.
The retreat includes beanddo Modern Meditation, physical yoga, breathing and relaxation (suitable for all levels) combined with established and empirically supported mind-set practices and exercises to promote, direct and enhance your innate emotional and creative intelligence in order to help "Make Happy Work".
Cost: £750.00 / person
(Price held from this year to 2021)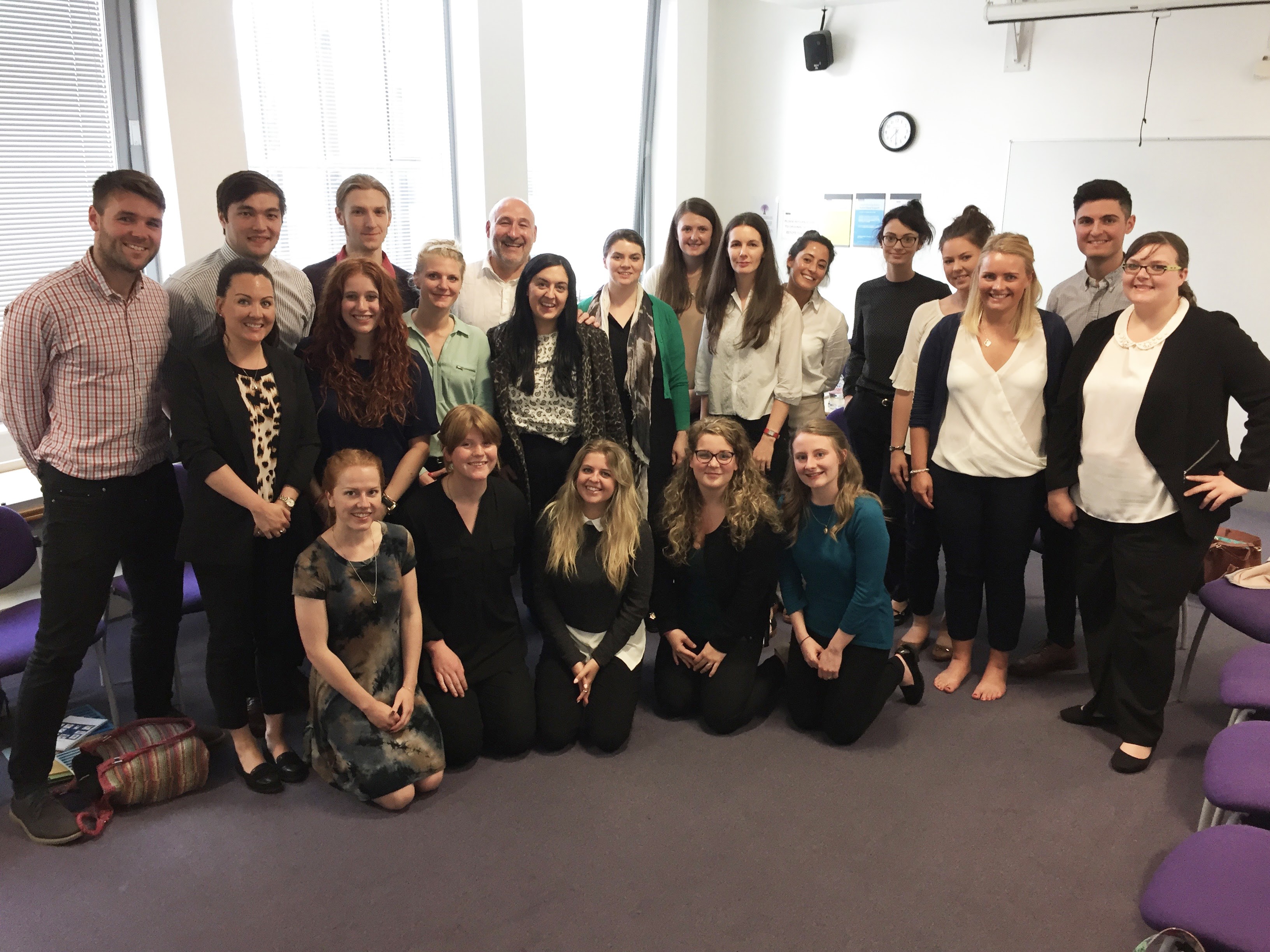 What is Modern Meditation?
After more than 30 years of yoga and meditation teaching and practice, beanddo founder Mick Timpson has designed a process that refines and shapes the way it is delivered and practised to best fit the challenges of the modern world around us. Modern Meditation combines contemporary insight and research with timeless wisdom into a simple practical application. 
There are no bells, no mantras to remember, or complicated breathing techniques to master. Similarly, there is no dogma, no right or wrong way and you don't have to believe anything. The only tenet is to practice meditation and trust that the rest of the benefits and insights will organically follow. No special equipment is required. All you need is a good teacher, a body that breathes, a mind that thinks, an undisturbed room and a chair to sit on - beanddo training will take care of the rest
Want to help others change their world?
Train to be a Modern Meditation Teacher. Our Teacher Training Programme is aimed at inspired people who would like to help others benefit from Modern Meditation practice. Whether you want to go deeper with your own practice, incorporate into your own profession and place of work or set up a new wellbeing business, this is the course for you. The Teacher Training Course is ideal for health and care workers, coaches, educators, HR specialists, wellbeing experts and business leaders.
The teacher training course is divided into three stages. On successful completion of all three you can become an accredited a beanddo Inner Architect™